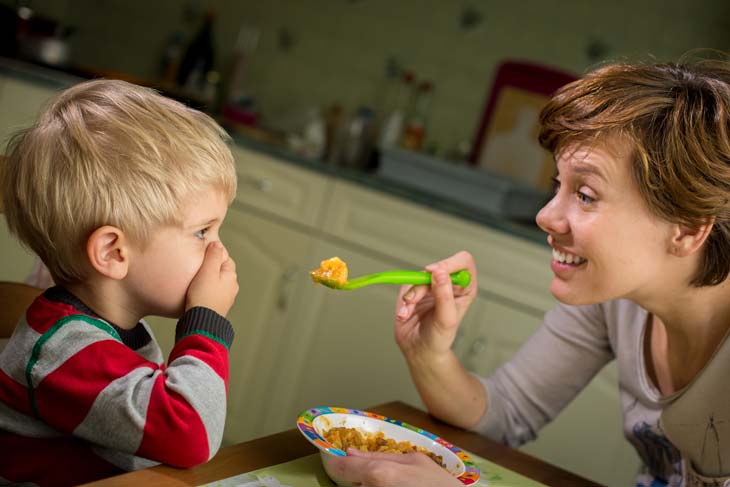 Feeding Therapy looks at the oral motor structure and strength of that child's mouth, helps to expand their food repertoire using sensory, behavioral, and food chaining techniques all the while respecting that child's comfort level with food. It is a delicate dance between the child, therapist, and parent carry over in the home to help them begin to have fun touching, smelling, licking, kissing, chewing, and finally eating a variety of foods!
Many parents wonder if their picky eater/problem feeder infant or toddler is just going through a normal phase of development every child goes through and that it will pass. However, there are several red flags that may indicate these seemingly "normal" behaviors are really signs telling you something isn't right.
Some signs that your child may benefit from a feeding evaluation include having tantrums or meltdowns around mealtime and eating, avoiding certain foods, textures, colors, or smells, eating a limited variety of nutritious food choices, having trouble chewing, moving food, or stuffing their mouth, and is a messy eater/drools. Others may have difficulty achieving developmental milestones for feeding (weaning off bottle, transitioning to table foods, etc. ), having difficulty breast or bottle feeding, experiencing weight loss or poor weight gain; coughing, choking, gagging with feeding, and have difficulty using utensils.
Evaluation
Comprehensive Feeding Evaluation includes completing a detailed developmental history, analysis of a three-day-diet completed by parents/caregivers, discussion of allergies and GI health that may be impacting this child's relationship with food, assessment of oral motor deficits, sensory-based food aversions, overall safety when eating, and utensil use. During an evaluation we ask that the parent/caregiver bring in preferred and non-preferred foods in order to assess the mealtime dynamic and for clinical observations to be made. Following the evaluation, intervention recommendations will be made based on the data collected.
Therapeutic Intervention
Feeding Therapy focuses on developing feeding skills using a holistic approach with parent coaching to address behavioral, motor, and sensory-based feeding issues. This therapy utilizes a variety of oral sensory strategies, including food chaining and sequential oral sensory (SOS) approach for a safe systematic hierarchy for feeding. Consultation with a behaviorist, oral motor speech therapist, dietician, and/or a doctor specializing in gastrointerology as needed.
Trainings and Workshops
Picky Eating Parent Consultation can be done with the feeding specialist for children with picky-eating issues in the absence of additional motor, sensory, or medical complications to provide strategies and support for parents struggling with mealtimes.  Community workshops are also available.  Contact Sensational Achievements at 203-200-7256 for more details.
Revised 9/6/17