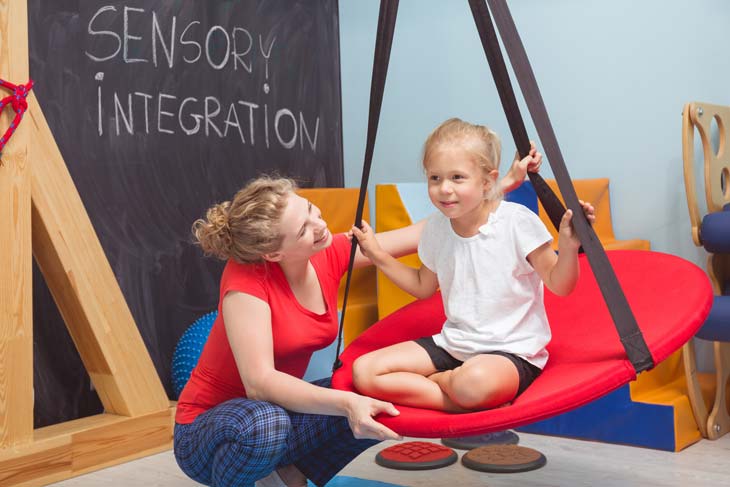 Does your child exhibit:
Poor self-regulation and behavior throughout the day, tolerance of environments and experiences, or limited attention span?
Rigidity or meltdowns around clothing, textures, touch, sounds, etc.?
Excessive fears, concerns, avoidance, or question asking to keep the environment predictable and manageable?
Clumsiness, poor safety during play, avoidance/limited participation in sports/recess/gym class?
Difficulties with writing and/or academics or the ability to work independently in a multisensory school environment?
Limited play skills, difficulty completing multi-step activities and difficulties with social interactions?
Children with sensory processing issues often struggle with participating in activities that other children their age do without hesitation or have difficulty tolerating busy environments and unpredictable situations. They have difficulty receiving and interpreting sensory information from their bodies and the environment, making it difficult for them to develop appropriate responses and effectively interact with the world around them.
There are different types of sensory processing disorders. Each child's sensory profile is unique. Therefore, it is critical to understand your child's unique combination of needs and sensory supports to create effective interventions and strategies to empower them and help them feel successful.
Sensory Over-responsivities result in a child being hyper-alert and/or avoidant of certain types of sensory input. This could look like poor tolerance of sounds, clothing, or excessive fear of movement or raised surfaces.

Sensory Under-responsivities may lead to sensory-seeking behaviors (ex: tactile, movement, sounds) to gain more input/feedback to the body or disconnection/low arousal/excessive sedentary play in the case of non-seekers.

Sensory Discrimination Deficits impact a childs ability to understand information coming from one or more sensory systems to understand such things as what textures they are feeling, what direction they are moving, where their body parts are. Each person's sensory systems are unique, so it is important to determine where there are both strengths and areas of weakness which could be impacting development of sensorimotor skills, postural control, and adaptive responses to the environment.

Postural-ocular Integration Deficits occur when children have difficulty integrating information from the visual, vestibular (movement), and somatosensory (muscle, joints, and skin) systems to adjust their body with balance and coordination demands and effectively use their vision to guide their body movements when navigating the environment.

Praxis Deficits stem from foundational difficulties coming up with ideas of what to do with one's body and/or objects in the environment (ideational praxis), plan and sequence motor-based tasks, and successfully execute the plan.  Praxis relies on the integration of cognition and motor skills to execute tasks in real-time to come up with ideas of what to do with one's body or objects in the environment, plan/sequence motor actions, and execute task demands quickly and efficiently.  Deficits can be visual, vestibular, or somato-sensory based in nature. This means that the strategies to address and remediate praxis deficits depends on the nature of the child's sensory profile and functional impact on a child's ability to learn, complete daily activities, and integrate feedback from their body and the environment.  Many children identified with executive function deficits experience overlapping symptoms in the area of praxis. Behaviorally, they may present as controlling of others, avoidant of task demands, seem to do everything in the "most difficult way possible" or have limited ability to sustain participation in activities due to the demands place on them and an inability to adapt/respond. 
Some signs that indicate your child may have sensory processing disorder:
tactile or auditory sensitivities,
functional visual skill/ocularmotor deficits,
fear of movement or heights,
clumsiness, lack of coordination,
poor self-helps skills,
poor organization/attention/self regulation,
difficulty with fine motor or handwriting tasks,
difficulty with/avoidance of age-appropriate play and gross motor activities.
Therapeutic Intervention
SI treatment is tailored to each child's sensory profile. Treatment occurs in sensory-rich gym environments with specialized suspended equipment and therapists trained in sensory integration theory and practice. Through playful and supportive interactions with the child, he/she learns how to explore and engage in sensory experiences that foster appropriate responses to sensory information. Treatment often begins with a focus on balancing self-regulation and skill development. As adaptive motor responses and postural control emerge, the body is then ready to engage in more complex demands. Vestibular input is used via use of suspended equipment (swings etc) to increase the connection between the vestibular (movement) system and the body to activate the muscles needed for dynamic postural control as well as the connection to the visual system for development of vestibular-mediated functional visual skills. Use of suspended equipment allows the therapist to facilitate a myriad of movement combinations to develop more efficient saccadic eye movement, gaze stability, visual fixation, and dynamic postural responses. Treatment then progresses to integrating postural and visual demands while building motor planning, praxis skills, and bilateral coordination. Therapists focus on parent-identified areas of concern while incorporating their specialized knowledge of the sensory, motor, and vision layers impacting a child's behavior and development to optimize outcomes and generalize skills across environments.

What about fine motor and handwriting?
While many families often initially seek occupational therapy for help with fine motor skills, adequate postural-ocular control is necessary to create proximal stability and support visual attention. Therefore, focusing on fine motor and writing demands may not be appropriate until this foundation is in place or may only be embedded in short bursts during sessions to maximize the therapeutic benefit.

What about auditory deficits?
For children with auditory challenges, Sensational Achievements offers the Tomatis Method, a stand alone auditory intervention which can be implemented during treatment sessions or at home.  Aubrey Schmalle (Owner and OTR/L) is a Level 3 Tomatis Consultant, which allows her to create custom listening programs designed specifically for your child's Listening Profile and areas of need. To learn more about the Tomatis Method, Click Here. 

While sensory integration therapy and the Tomatis Method are not a cure,  these interventions can significantly improve the quality of life of both a child and his/her family.  It starts with understanding your child's unique profile and areas of need to create a targeted intervention plan.

How long does it take?
Research tells us that the first significant milestone for progress is around 30 hours of intervention. This includes not just treatment sessions but also how consistent you are with home programming and implementation of sensory support programs utilizing the Body Activated LearningTM framework.

Educational Consultations/IEP Review
Hyperactive, noncompliant, irritable, inattentive, anxious, aggressive, controlling, withdrawn, loud, and disorganized are just a few "labels" by which a child can easily become known by teachers, parents, and peers. It is important to understand that these children are not intentionally misbehaving and may need additional supports in place to help them be successful. Once the exact nature of the sensory processing deficits are identified, intervention can be customized to address a child's unique sensory profile and needs.
Adults around them should be given the tools and strategies to help them succeed without making them stand out from their peers. The therapists at Sensational Achievements also provide training and resources to a child's school team using our unique Body Activated LearningTM approach in an effort to create an environment to help all children succeed. Through education, the other students also gain sensational self-awareness of their own needs and individual differences. In this way, teachers can celebrate differences and "normalize" the need for everyone to use sensory strategies to enhance focus and attention, fostering a nurturing and supportive environment where all children can grow into their best selves.
Consultations to review your child's current IEP, school-based therapy goals, school-based sensory support plan, and participate in PPT meetings can be added to your treatment package for an additional fee.
Fill out a Contact form to get started or call us 203-200-7256 for an intake.
If you would like to be connected to a parent of a child with a sensory processing disorder who has experienced success with sensory-based and/or Tomatis interventions, please let us know and we would be happy to connect you.
Resources
He's not a 'bad kid', he has a sensory processing disorder
Whole Body Listening in the Classroom
Sensory Processing & Behavior: Is there something else going on?