Rhythm, Pressure, and Respiration are the key elements of calming input. Find the best match for your child's sensory needs from our Amazon Restore Gift List below!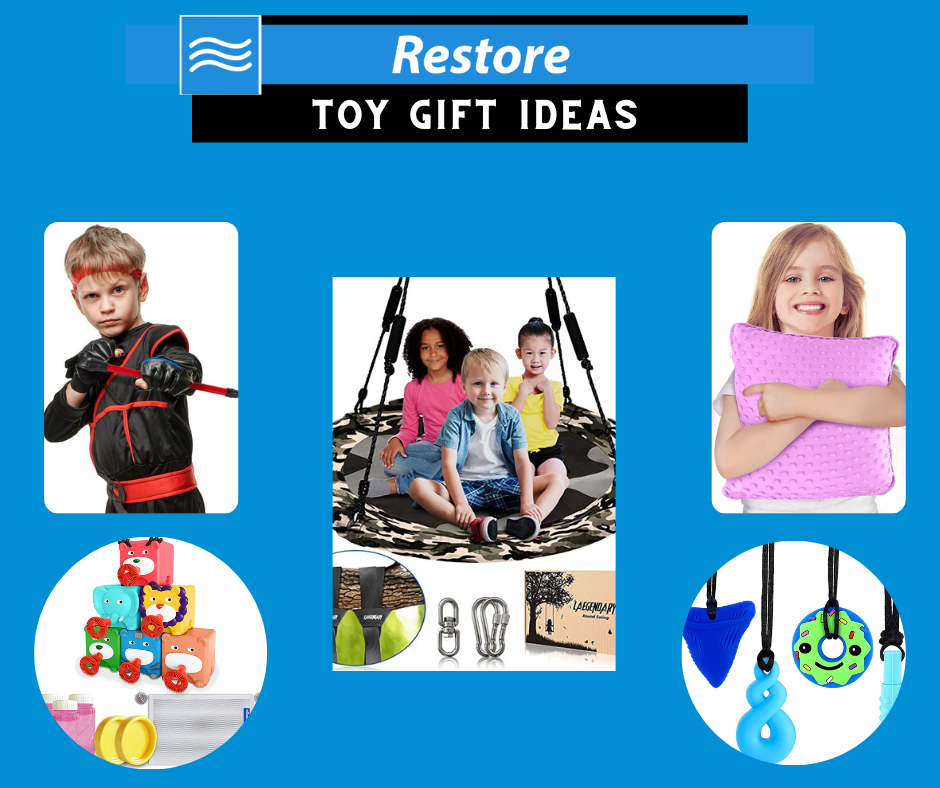 RHYTHM
There are so many ways to find rhythm. It comes in the form of music, rocking in a rocking chair, or even just doing something in a rhythmic way (like stacking a set of dishes one at a time). Walking and biking are often recommended for regulation because of the rhythmic movement. But some of our kids don't naturally have an internal rhythm (think about kids who can't do continuous jumping if they aren't on a trampoline). Giving kids an opportunity to get rhythm in their bodies is a great way to support regulation.
TRAMPOLINE FOR YOUNG KIDS
TRAMPOLINE FOR OLDER KIDS
PRESSURE
Weighted Toys, Blankets, Stretchy Lycra, and Vibration provide pressure to the body to reduce stress hormones. Everyone's sensory system is different, so it's important to observe the types of pressure your child seeks (ex: under pillows, hugs, stretchy). Some kids may look for deep pressure as they sleep. Some may be looking for it as they play and roll to help them them not get overstimulated during a fun playdate. Some kids just need options throughout the day. Hopefully one of these will be a match for your child!
RESPIRATION
Encourage Deep Breathing with These Blow Toys
Not every child knows how to take a deep breath to calm down. If your child has motor planning difficulties or can't figure out how to breathe in the moment, it may be time for a blow toy! Blow toys are an easy way to get kids to take a deep breath without actually telling them to do it. Because each child responds differently to blow toys, I will give you a few things to think about. 1. If your child likes to hold his breath or likes resistive things, a balloon-type blow toy is the one for them. Just choose one that is not too hard to blow up. 2. If your child tends toward overthinking and anxiety, you might want a blow toy that has a goal/something to focus on such as a blow dart game or a floating ball. One requires a hard/fast blow and the other requires a long exhale. So your child may prefer one over the other. Forced exhales are also great for children with asthma to help get the trapped air out from their lungs and breathe deeper. 3. Bubbles – what can I say? So many kids love bubbles no matter how they blow them! These are some options to think about. Straws/smaller mouth pieces may be harder than larger mouth pieces, so you may want to try a few options and see what your child likes best. Breathing is a critical part of self regulation. Yet many kids just can't do it well or start holding their breath when they are stressed or concentrating.
WOODEN PIPE WITH FLOATING BALL
Check out this video to learn how to choose and use blow toys with your child!