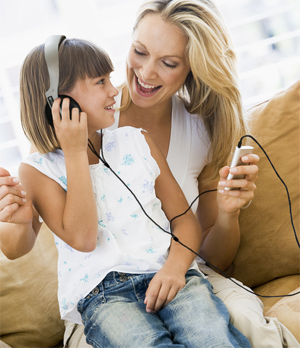 We live in a multisensory world full of visuals and sound to the point that it can become overloading.  It impacts our self-regulation, visual skill development, ability to filter out distractions, and the ability to actively and consciously listen to our friends and family in everyday interactions.  This is especially challenging for children with sensory processing disorders who are overwhelmed by sounds in their environment or have difficulty tuning into the details, making them appear distracted and inattentive.  
Listening to this TED Talk to hear more about conscious listening.
Once we become aware of our auditory environment and the need for supporting active and conscious listening, there are a few questions we should ask:
What do I need to know to support "Safe Listening"
Music/Sounds >75dB can harm hearing

Always carry foam and wax ear plugs for noisy environments (large gatherings and concerts).  They reduce the volume of incoming sound by 29dB or more.

Listen to music at comfortable levels:  You should be able to hear a person talking to you without yelling/raising your voice

Change the settings on iPods/iPhones to a safe level (75dB max) and enter a code to lock it so that children cannot turn up the volume

Purchase kids headphones that also provide safe levels of sound input versus using earbuds

Sudden sounds do not allow the ears enough time to react to support natural tensing of the ear muscles to minimize the ear's exposure to damaging levels of incoming sound.  Make sure your are wearing earplugs when using tools and/or playing drums
What are some games I can do to support "Active Listening"?
Find That Toy:

Hide a toy that makes noise in different parts of the house and ask your child to listen in order to figure out where the toy is hiding

Play Whistle Hide and Seek:

each time the "finder" blows his/her siren whistle, the hider has to respond by blowing theirs.

Rhythm Simon Says:

Practice copying each other's rhythms using clapping, drumming, or mouth sounds.  Gradually make the rhythms longer with more variations and see how much you can remember

Name That Sound:

Sit outside, close your eyes and see how many sounds you can name that you hear around you.  You can also play this game at home using household items such as pots and pans, ripping paper, stomping up the stairs, etc.

Keyword Response

(www.bodyactivatelearning.com): Scroll through similar-sounding words or with the same starting letter.  Tell your child that every time he/she hears the word _______, he/she should do a body movement (ex: hopping, spinning, put your hands on your head).
When should I consider a formal Listening Program?
Studies show that educational interventions such as Tomatis Programs and Tomatis-based Listening Programs can improve auditory and listening skills both from a wellness perspective and for children diagnoses such as Autism Spectrum Disorders, Learning Disabilities, Central Auditory Processing Disorders, and ADD/ADHD.  Sensational Achievements offers a variety of Listening Programs to meet you and your child's needs.  We also actively collaborate with a Certified Tomatis Consultant to develop customized programming to target specific identified areas of concern.
Areas of Improvement Often Include:
Self Regulation
Social/Emotional Skills
Auditory processing
Communication
Executive Function
Sensory Motor Skills
Stress Resilience
Creative Expression
How do I know if doing a Listening Program is right for my child?
Your child is very anxious or may have poor emotional regulation such becoming easily upset, have difficulty recovering from upsetting events, poor transitions, and anticipation anxiety

Your child is receiving therapy but may not be progressing at the rate you hope with regard to communication, self-regulation, and play skills

Your child does well with motor and communication skills but may struggle with organization and executive function skills.

Your child has difficulty with self-expression both in communication and writing

Your child has limited tolerance of noisy environments or difficulty filtering out auditory distractions

Your child has difficulty with self-regulation impacting toileting and or sleep patterns

Your child has difficulty with motor skills and "tuning in" to his/her body

Your child has difficulty with "active listening" and participating in conversations
Everyone can benefit from working on their listening skills no matter what their age, background, and needs are.  Some listen for overall wellness while others have specific goals they want to achieve.  In our highly visual world, it is important not to lose sight of the value of active and conscious listening both in our relationships and in our everyday experiences with the world around us.
If you have any additional questions or would like to learn more about the benefits of listening programs, please contact the therapists at Sensational Achievements at 203-200-7256 x 102.
Contributed by Aubrey Schmalle, OTR/L