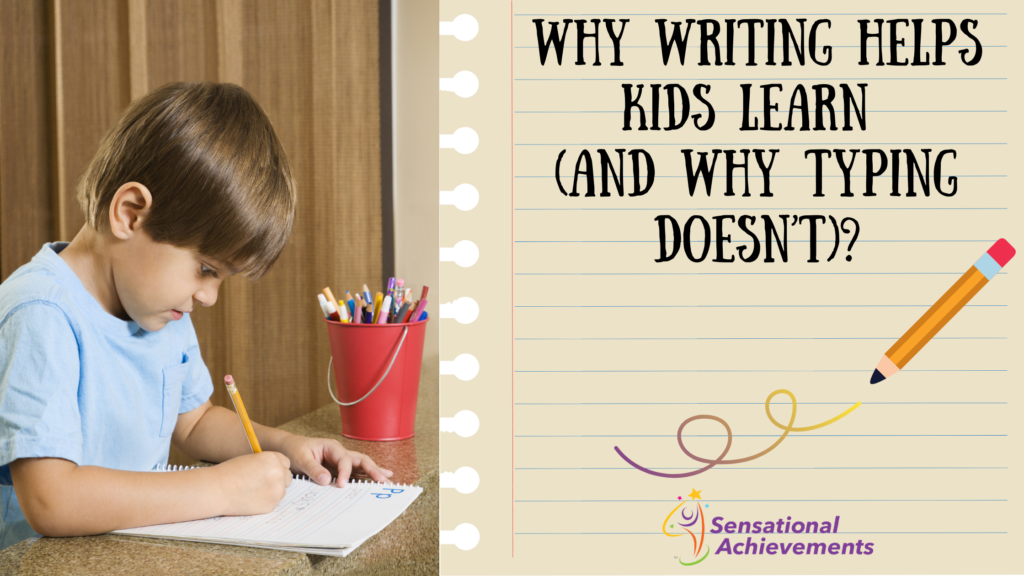 Handwriting has been a long-debated subject, especially with the push to go paperless in school and use more online learning platforms like Google Classroom.
Schools are always saying that they are looking for research-based interventions before implementing programs into the school curriculum. Yet, research shows without a doubt that handwriting is not just a skill that should be practiced in kindergarten and first grade but a way to help the brain store and retrieve information for learning.
See, the problem is that writing on a touchscreen or typing on the computer does not activate the same neural networks and sensory pathways that store information into a child's memory bank as writing the old-fashioned way….with a paper and pencil.
There was a study done comparing writing on a tablet to writing on paper to determine if it was just the act of writing with our hand that was important rather than the sensory experience itself. I am sure the tech-lovers of the world were hoping that writing with a stylus was just as effective in supporting memory skills as pencil and paper.
You know what they found? Just what people feared – writing on a tablet with a stylus did not support memory and recall any better than typing. And neither did a better job than paper and pencil. (Read the full article here)
Why is this?
Well – because learning is a multi-sensory process! It is not just the motor skill of moving a pencil that is important. It is the drage of the pencil on the paper, the texture of the paper, the way the paper has defined edges to help with spatial organization of information. It's everything you never knew you always wanted to know about how the brain uses sensory cues to organize, store, and retrieve information!
In an article in The New York Times by Maria Konnikova called "What's Lost as Handwriting Fades" the author writes:
"Children not only learn to read more quickly when they first learn to write by hand, but they also remain better able to generate ideas and retain information." She reports that Stanislas Dehaene, a psychologist at the College de France in Paris stated that "when we write, a unique neural circuit is automatically activated. There is a core recognition of the gesture in the written word."
The author who also cited a study in children grades 2- 5 by Virginia Berninger, a psychologist at the University of Washington, found that "when the children wrote by hand, they not only consistently produced more words more quickly than they did on the keyboard, but expressed more ideas." Also, the study showed that "when these children were asked to come up with ideas for a composition, the ones with better handwriting exhibited greater neural activation in areas associated with working memory- and increased overall activation in reading and writing networks."
So what about kids who struggle with handwriting – or even have a diagnosed dysgraphia?
Well, it is not surprising that many of them also struggle with reading and/or have difficulties with working memory. The writing process begins first with learning the formation of letters and understanding how they cluster together to form words. Initially, planning is focused on learning how to form letters until they are locked in our memory bank and become more automatic. As automaticity develops, we no longer need a visual model to write letters and can shift our working memory resources toward writing words and, eventually, sentences. Once this foundation is built, more working memory resources can be devoted to constructing written responses and using writing to convey information or tell a story. Children who lack automaticity in these foundations and also present with working memory deficits are at high risk for struggling in school.
Given that the research shows that memory is enhanced through the act of writing, it is important that we evaluate whether moving completely to a typing accommodation before first trying to build more writing automaticity and orthographic memory is the best course of action to promote a child's ability to learn and demonstrate what they know in the classroom.
You may be asking the question: Well, if working memory is being taken up by writing, aren't we making more resources by removing the demand?
The answer: Not necessarily. The brain is constantly growing and changing through stimulation of neural pathways from multi-sensory experiences. Removing the multi-sensory experiences disrupts the development of memory skills. "Skipping" the foundation so to speak, could just be further limiting the development of working memory in a child who already has deficits in this area. It doesn't mean that some accommodations for longer writing assignments aren't appropriate as extreme frustration is also a recipe for disaster, leading to optim out of writing activities all together.
What do I suggest?
Understand that the brain grows, changes, and adapts through multisensory experiences. In the world of sensory integration, how children develop ideas of what to do with their bodies, translate those ideas into a motor plan or series of motor plans, and execute the tasks is known as praxis. This process happens with all activities that require motor responses. And writing is one of them.
Recognize that children need to learn how to plan and sequence the formation of a letter first as well as understand that groups of letters have similar motor plans (Ex: c,a,g,o, d, q all start with a "c" shape first)
Utilize multisensory experiences through whole body movements, large arm movements drawing on a white board, and tactile experiences to build letters or trace them in things like sand and shaving cream or just with a finger on wooden pieces to capitalize on the natural way the brain learns and stores information.
Recognize that one size does not fit all when it comes to writing programs and you may need to start with a program but continue with other multi-sensory approaches.
Once a child has learned how to approach the formation of each letter and is able to copy letters, it's time to fade the visuals and make sure that orthographic memory is developing! You can do this by slowly creating time gaps between when a child sees a word/letter and the time they write it down. Sometimes doing an activity like walking in the shape of the letter, closing their eyes while you help them trace it in sand and "see it in their head" or hopping while saying each letter aloud if you are working on site words can be a very effective multi-sensory strategy for reinforcing visualization of letters and retaining them in working memory.
Build slowly – If a child has always had something to copy, working memory for retrieval and composition is going to be lower. If letters are established with dictation, teach visualization of sight words, grouping them by 2 letter words, then 3, then 4. This is NOT the way they are taught in kindergarten but remember that you are building MEMORY so you are always asking yourself – How many bits of information can a child hold onto at once? If a child is at single-step actions in all the rest of their activities, chances are they are at single step/single letter activities when it comes to writing.
While every child is different, there are still patterns to how the brain builds pathways and connects information. Sensory experiences are critical to supporting praxis skills. Praxis foundations are critical to enhancing the body's ability to know how to engage with the world and in this case – control the pencil to write on paper in a legible way. Praxis is the foundation for development of working memory and goal directed movement. Visualization and automaticity of movement is critical for creating space in working memory to develop content-oriented writing skills.
Handwriting is a very important skill that needs to be honed and used throughout life, regardless of the speed of technology. Writing with a paper pad and a pen with digital ink is the closest technology I have come across that mirrors paper to pencil tasks.
My final piece of advice:
Never give up on your child's ability to write. Even if one child's road is longer than another's, the process of building the foundation in a multi-sensory way has exponential benefits that extend far beyond legible handwriting to set them up for success over a lifetime.
If you enjoyed this article and want to learn more, sign up for my upcoming courses for parents to learn more about praxis and developing handwriting skills.  We have one coming up on Wednesday, April 27, 2022 at 10:00am EST.
If you are a professional, there will be a live webinar course on Wednesday May 11, 2022 called "Helping Horrible Handwriting: Interventions to Improve Graphomotor Skills When Formal Programs Fall Short" hosted by Theramoves.
By Aubrey Schmalle, OTR/L, SIPT
Resources and Research Links
De Vita F., Schmidt, S., Tinti, C., Re, A.M. (2021). The role of working memory on writing processes, Frontiers in psychology, Vol. 12. https://www.frontiersin.org/article/10.3389/fpsyg.2021.738395
McCloskey, M., & Rapp, B. (2017). Developmental dysgraphia: An overview and framework for research. Cognitive neuropsychology, 34(3-4), 65–82. https://www.ncbi.nlm.nih.gov/pmc/articles/PMC6238209/
Umejima, K, Ibaraki T., Yamazaki, T., Sakai, Kuniyoshi, L.S. (2021). Paper notebooks vs. mobile devices: brain activation differences during memory retrieval, Frontiers in behavioral neuroscience, Vol. 15. https://www.frontiersin.org/article/10.3389/fnbeh.2021.634158