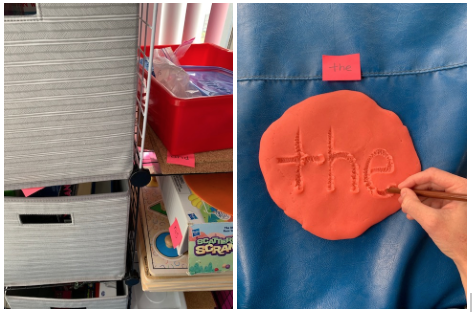 Supplies:
Play Dough
Sticky Notes
Writing Utensil
Set-Up Prior to Child Engagement:
Adult writes 5-10 sight words on sticky notes and hides the sticky notes around the room
Adult sets a ball of play-dough next to a writing utensil on a non-stick floor or table
Procedure:
Child looks for one sight word tag.
Depending on their abilities, a child can either physically bring the sight word tag or just read it/memorize it before going to the play-dough.
Child flattens play-dough.
Child writes sight word in the play-dough with the back of a writing utensil
After writing the sight word, the child squishes the playdough back into a ball to "erase"the word.
Repeat steps 1-5 for as long as the child is engaged or for a specific number of words (ex: five assigned for homework).
Benefits: